So…What Is Drama Therapy?
Drama Therapy is an active, experiential approach to facilitating change. Through storytelling, projective play, purposeful improvisation, and performance, participants are invited to rehearse desired behaviors, practice being in relationship, expand and find flexibility between life roles, and perform the change they wish to be and see in the world.-nadta.org
Liz Rubino received her MA in Drama Therapy from the Nation's acclaimed program at New York University under the leadership of Drama Therapy pioneer Robert Landy in 2011. Liz, a scholarship recipient, worked for 3 years with Creative Alternatives of New York as a group therapist with a variety of populations including sexually trafficked teens, adults on the spectrum, LGBTQ homeless youth. International Refugees, inpatient psychiatry, domestic violence survivors and more. Additionally, Liz has directed musicals and worked with the youth of The Hetrick-Martin Institute in NYC as a drama therapist, and collaborated with art therapist Robin Snow on therapy through toy theatre techniques. In her hometown of Youngstown, OH, Liz works with a variety of populations and also directs the Holocaust Impact Theatre productions for the Youngstown Jewish Federation.
Currently, Liz runs drama therapy groups and works with private clients. A registered drama therapist, Liz also presents workshops on creative arts therapies, methods and projective techniques. She completed her performance thesis on post-traumatic growth entitled And So…I Sing at NYU (directed by Emily Nash, RDT, LCAT) where she also directed cabarets for the drama therapy program and has worked to coach those performing autobiographical and self-reveletory pieces.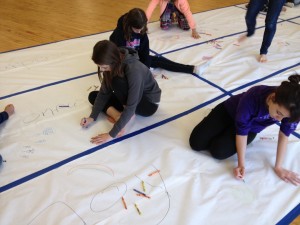 "Rent In Concert" with the youth of the Hetrick-Martin Institute, NYC, 2011
"Holocaust Impact Theatre Play-In-A-Day" with the youth of Akiva Academy and the Jewish Community, Youngstown, OH 2015
Please feel free to contact Liz to inquire about how drama therapy/therapeutic theater can be a part of your journey whether as a client, educator, actor, mental health worker or otherwise: