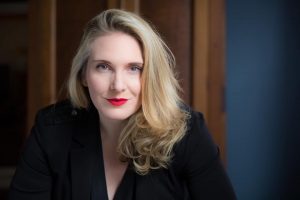 Liz Rubino, MA, AEA, RDT
National Performer, Teaching Artist, Drama Therapist
Liz lives for the little moments. The little spaces of unexpected wonder in a song. That genuine suspension between audience and performer. The teaching moment when a student's eyes register a meaningful shift. Those little moments that lift communication and relationships between people into art. 
Miss Rubino has performed leading roles in professional theater and is a frequent cabaret and concert artist who's credits include solo and duet cabarets at the Duplex, The Metropolitan Room, Urban Stages and Don't Tell Mama as well as iconic roles such as "Rose" in GYPSY, "Countess Aurelia" in DEAR WORLD, "Madeleine True" in Lippa's THE WILD PARTY, "Meredith Parker" in BAT BOY, "Gertrude" in HAMLET, "Romaine" in THE LARAMIE PROJECT, and "Lysistrata" in LYSISTRATA. Her debut album, Touch of the Moon was released in 2008, and her latest album, Woman Under The Covers, has enjoyed national concert engagements at Cleveland's Cain Park and across the east coast and glowing music industry reviews. As a musical comedy performer, Liz is one half of the dynamic duo of Suave & The Boner with duet partner John Paul Boukis. Their hilarious, steampunk, double-entendre brimming show debuted at the Duplex in 2013, and has played regionally as well as return engagements in New York City.
Liz Rubino National Performing And Therapeutic Arts Studios offer training programs, intensives and performance groups across the nation in voice, drama, musical theatre, drama therapy and speciality areas of the performing arts. National coaching intensives New Faces of Cabaret, Broadway 360 and Acting For Dancers are offered to theaters, dance studios, and performing arts organizations with students performing at leading New York City cabaret venues, Walt Disney World and more. Liz offers private online coaching in voice, acting and audition techniques. A registered drama therapist, Liz leads drama therapy groups, guides private clients, presents workshops and directs autobiographical and self-reveletory performances as well as theatre for social change presentations. Additionally, Miss Rubino offers online organization and personal development coaching for teens and adults, and has successfully helped clients achieve their goals and bloom into the person they desire to be.
Miss Rubino is on the theatre faculty at the ACES Educational Center for the Arts in New Haven, CT-one of the nation's top magnet performing arts high schools. Students at ECA have gone on to conservatory training at Yale, NYU, Cincinnati Conservatory of Music, Carnegie Mellon, ACT, Manhattan School of Music, Berklee, and many more! Her teaching areas include musical theatre, cabaret, acting II/III, devised theatre, audition and monologue coaching, acting for the camera, directing, and rasabox training. Liz is also on the voice faculty at The Neighborhood Music School where she teaches adults of all ages the art of cabaret! Additionally, Miss Rubino is a private voice teacher, vocal and acting coach and audition coach for those serious about pursuing a professional future in the performing arts.
Liz is a proud member of the Actors Equity Association, National Association for Teachers of Singing, New York Singing Teachers Association, North American Drama Therapy Association, Voice and Speech Trainers Association and the Manhattan Association of Cabarets and Clubs.