Broadway & Beyond Annual Studio Concert
Saturday, June 18, 2016 at the Youngstown Jewish Community Center, 505 Gypsy Lane, Youngstown, Ohio
Come out and support arts education and watch some of these amazing youth sing their hearts out for you!
Check out "Revolting Children" from Matilda from last year's show!
National Applause!
Congratulations to LRS students Ava Wilson and Abby Witherstine, both accepted to top-notch performing arts summer studies in New York City!
Members of Liz Rubino National Performing & Therapeutic Arts Studios debuted their co-conceived cabaret, TUNED IN, at NYC's famed cabaret club, The Metropolitan Room!
Check out video from the show!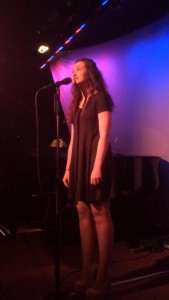 Madison Gulfo
Alumni, Kent State University BFA Musical Theater & LRS Junior Voice Teacher
Alumni Spotlight
We have so many LRS alumni doing awesome things! Congratulations to LRS alumni Makayla Robinson, Emelia Sherin and Tyler Hanes for being cast for Disney Cruise Lines, the national tour of How The Grinch Stole Christmas and a regional production of Chicago! Meanwhile, alumni Kelsey Vansuch, while finishing her degree in vocal education at UNLV, continues to take youtube by storm with her singer-songwriter and cover videos and most recently performed at the Hard Rock Cafe, Las Vegas!
Our Students Have Performed And Studied At
Point Park University*Hard Rock Cafe Las Vegas*Boston Conservatory*New York University*Carnegie Mellon University*Baldwin Wallace*Kent State University*Youngstown State University*Belmont University*54 Below NYC*The Metropolitan Room NYC*The Duplex NYC*Joe's Pub NYC*Northwestern University*Walt Disney World*Walt Disney Land*Cedar Point*Hershey Park*Six Flags CA*University of Nevada Las Vegas*Broadway Triple Threat NYC*Lincoln Park Performing Arts High School*Interlochen*Broadway Steps*Broadway Performing Arts Workshops*Regional theatre*Disney Cruise Lines*National Tours*Off-Broadway